Product Description
Details
Waterproof bike mount bundle incorporating the stylish TiGRA Bike CONSOLE phone case with a 13.3mm-14.7mm fork stem yoke mount.
Motorcycle fork stem yoke mount fits stems: 13.3mm - 14.7mm (0.52" - 0.58").
This central fork stem yoke mount has been developed for use on motorcycles where a handlebar mounting option is not possible or desirable.
Designed to fit sports, superbike, endurance and touring motorbikes using the cylindrical bore wall (steering head tube) of the fork stems.
Light-weight - made from Aluminium.
Attaches easily to the steering head tube of fork stems.
Important: First check that your stem cover can be removed leaving a central hole for the mount to fix in. Simply drop the Fork Stem Motorcycle attachment into the hole of the stem and tighten. The split shaft will expand to fit the inside wall of the fork stem. Use an Allen Key to tighten to create a tight fit. (other sizes available).
Includes the Hard shell 'Tough Case' with dedicated silicon anti-shock liner.

Designed to fit the Apple iPhone 5C (not for 5 or 5S) & offers IPX4 waterproof protection with 'Scan Through' access for the Touch ID feature.
Protects from rain showers & damp weather while maintaining access to most of your phone's functions.
Case features:
IPX4 Waterproof.
Large twin side clasps for reliable security.
Drop tests from 2 meters on hard concrete floor at multiple angles.
Touch screen operable with sensitivity over 90%.
Strong case made of engineering plastics.
2 large reliable double-hinged latches lock phone in with extra security.
Pocket-friendly flat back design.
New safety lock design prevents case detaching from adaptor.
Sound Boost technology diverts speaker/mic sound to the front while keeping the whole unit water tight.
Case-in-case design eliminates the hassle to undress phone (but naked phone can also snug-fit inside console).
Stylish, translucent polycarbonate case for daily use included (use is optional)
Integrated kickstand.
360º rotation.
Home and sleep/wake buttons operable
Cameras access
Headphone accessible (headphones not included)
Charge port accessible (cable not included)
We also have two other sizes available: 17.5mm - 20.5mm (0.68" - 0.81") and 15mm - 17mm (0.59"-0.68") - See separate listings.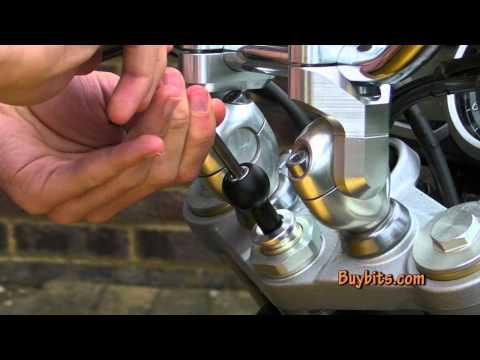 Ultimate Addons Central Fork Stem Yoke Mount - YouTube
Video will open in a new window
[isdntekvideo]
What's included ? 1 x Tigra Case 1 x adapter 1 x stem mount
Additional Information
Additional Information
| | |
| --- | --- |
| Bullet 1 | Waterproof bike mount bundle incorporating the stylish TiGRA Bike CONSOLE phone case with a 13.3mm-14.7mm fork stem yoke mount. |
| Bullet 2 | Developed for use on motorcycles where a handlebar mounting option is not possible or desirable. For iPhone 5C ONLY. |
| Bullet 3 | Quality hard 'Tough Case' IPX4 waterproof - Protects from rain showers & damp weather while maintaining access to most of your phone's functions. |
| Bullet 4 | Large twin side clasps for reliable security. Drop tests from 2 meters on hard concrete floor at multiple angles. |
| Bullet 5 | Touch screen operable with sensitivity over 90%. Strong case made of engineering plastics. 2 large reliable double-hinged latches lock phone in with extra security. |
| Manufacturer | BuyBits |
| Fits Apple | Apple iPhone 5C |
| Brand | Apple |
| Mounting Type | Stem |
| Colour | Black |
| EAN DNU | No |
Reviews
Product Tags
Related Products