SM688L22 - Slim-Grip Ultra 22" Flexible Seat Rail Bolt / Floor Mount - Slim-Grip Ultra holder works with nearly all smartphones and tablets up to 8", even with cases.
Arkon's Slim-Grip Ultra is a sleek holder for just about any mobile device: iPhone, Galaxy S III, Note II, even the iPad mini & Nexus 7. It works with skins and cases; even thick, heavy duty cases.
The 22" flexible aluminum mount attaches to your car's seat track bolt. Brackets are also included for semi-permanent floor mounting if desired.
Slim-Grip Ultra holder works with nearly all smartphones and tablets up to 8", even with cases
Includes optional long legs for big devices and cases
22" flexible aluminum seat bolt floor mount with optional floor or dash drill in bracket
180° tilt-swivel head allows maximum viewing positions
Allows 360° rotation for positioning in portrait or landscape view
Lightweight and strong.
The SM688L22 car or truck seat rail floor mount can be used with all iOS, Android, and Windows smartphones up to 6.75'' tall, including the iPhone 5S, 5C, and all previous iPhone models (such as the 4S and 3G), the Samsung Galaxy S4 and previous Galaxy S series smartphones, Galaxy Note 3 and Note 2, Google Nexus 5, HTC One and One max, Nokia Lumia 1020, and Motorola Moto X. It also fits midsize tablets, including the iPad mini, Galaxy Tab 3 7.0 and 8.0, Galaxy Note 8.0, Google Nexus 7, and Kindle Fire HD.
This mount package includes Arkon's Slim-Grip Ultra Universal Smartphone Holder and a seat rail floor mount with 22'' flexible aluminum gooseneck.
The smartphone or tablet is held securely in place with the Slim-Grip Ultra spring-loaded holder, and can be inserted or removed from the mount with one hand. Included with the holder are 8 support legs (4 short and 4 longer versions). The top and bottom adjustable-leg design of the holder helps keep any side buttons and ports unobstructed. For most devices, the best mount holder configuration is to attach 2 short support legs on top and the 2 long support legs on the bottom of the holder.
The car seat rail or floor mount is made of strong aluminum, and is ideal for those who need easy access to their smartphones but prefer mounting them somewhere other than the windshield or dashboard. Use a socket wrench to install the mount to the car's seat rail. Loosen the passenger seat track bolt, insert the included seat track bolt bracket, and then retighten the bolt. Bend the 22'' gooseneck and rotate the swivel ball adapter head for 360° rotation for exact positioning of the cell phone.
Optional floor brackets are included for screwing the car dock directly into the floor of the vehicle. (Warning: Drilling into the vehicle's floor may damage the vehicle. Use caution and consult a mobile install professional to avoid drilling into any sensitive vehicle components.)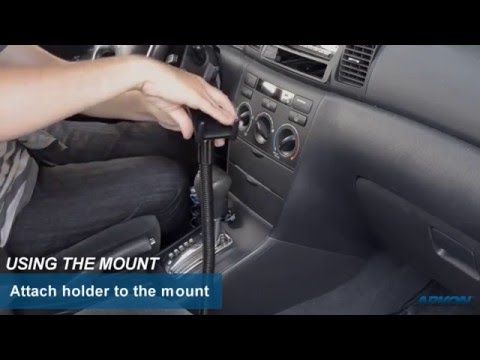 22" Seat Rail Car Mount for Nexus 7 Nexus 5 Galaxy Note 8 Note 3 Galaxy S4 iPhone 5 | Arkon SM688L22 - YouTube
Video will open in a new window
[isdntekvideo]