Product Description
Details
'Easy Fit' vent mount with it's dedicated Apple iPhone 6S (4.7) cradle - very simple to use, Fits most air vents.
It's easy to attach to your vents and simple to remove.

Suitable for both horizontal and vertical vent slats, simply rotate the spring action arm to suit your vents.

A popular alternative to suction cup window mounts.

Holds your iPhone 6S securely against the air vent of your vehicle.
360 degree tilt & swivel ball adjustment - ideal for satnav or map applications.
Tightening ring holds desired position.

The 'Easy Fit' vent mount has done away with the traditional plastic clips which could be awkward to insert and has replaced them with just a single metal, spring action mechanism
So easy it can be worked with just two fingers.

Cushioned support feet reduces vibration and protect the dash / console.

Supplied with a bespoke cradle designed to only fit the Apple iPhone 6S. (Not for 6S PLUS version)
All function points & camera remain accessible.
Bespoke - Not for use with a case or skin.

Fitting:
Requires a gap of 6mm (1/4") between louvers.
Louver maximum depth 30mm.

Video is an example of the easy fit vent fitting and may not show your chossen cradle or device.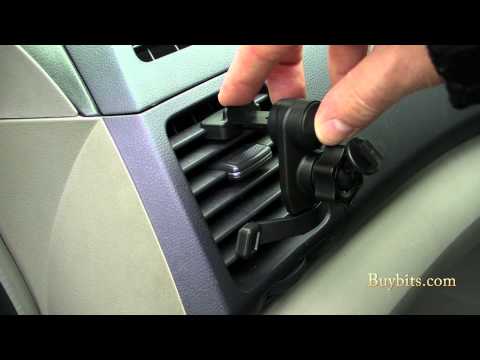 Ultimate Addons Easy Fit Vent Mount 2 Clip End - YouTube
Video will open in a new window
[isdntekvideo]
What's included?
1 x easy fit vent mount base
1 x iPhone 6S cradle
Additional Information
Additional Information
| | |
| --- | --- |
| Bullet 1 | The 'Easy Fit' vent mount with it's dedicated Apple iPhone 6S (4.7) cradle does exactly what it says on the tin. It's easy to attach to your vents & simple to remove. |
| Bullet 2 | Holds your iPhone 6S securely against the air vent of your vehicle. 360 degree tilt & swivel ball adjustment - ideal for satnav or map applications. |
| Bullet 3 | THis style of vent mount has done away with the plastic clips which could be awkward to insert & has replaced them with a single metal, spring action mechanism |
| Bullet 4 | Supplied with a bespoke cradle designed to only fit the Apple iPhone 6S. All function points & camera remain accessible. Bespoke - Not for use with a case or skin. |
| Bullet 5 | No |
| Manufacturer | BuyBits |
| Fits Apple | Apple iPhone 6S |
| Brand | Apple |
| Mounting Type | Vent |
| Colour | Black |
| EAN DNU | No |
Reviews
Product Tags
Related Products