Product Description
Details
Galaxy S3 Mini GT-i8190 Easy Fit Vehicle Air Vent Mount (sku 16611)
SKU: 16611
This air vent mount for the Samsung Galaxy Mini S3 GT-i8190 is suitable for most horizontal and vertival vent slats.

The single spring vent clip post can be rotated through 360 degrees to suit your slats.

Straightforward and uncomplicated to use, very easy to fit and quick to remove.

The adjustable phone holder accommodats most cases and skins.
Unlike bespoke dedicated cradles the arms of this holder are spring loaded to accommodate different makes & styles of case.

Function areas remain fully accessible.
Fits phones with a minimum height of 65mm and a width of between 40mm - 80mm. Perfect if the drivers of your vehicle use different phones.

Requires a gap of 6mm (1/4") between louvres.
Louvre maximum depth 30mm

Cushioned support feet protect the console / dash area and reduce vibration.
The metal spring action gripper with it's plastic vent claw holds the mount securely against the vent.
The universal phone cradle is held on a ball joint which allows the screen to be viewed in portrait or landscape mode and has tilt adjustment to avoid sunlight glare.
Tightening ring secures position.

The video below is an example of the Easy-Fit Vent Design only and will not show your device.
This Video is an example of the Universal Holder only and may not show the mounting option offered in this listing.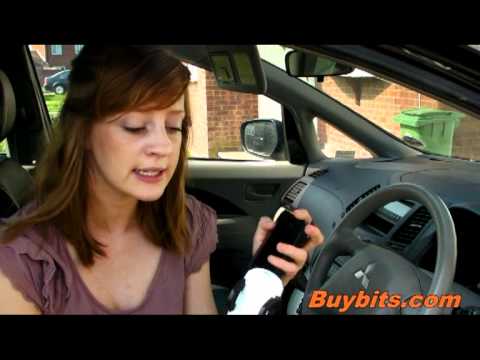 Universal Mobile Phone Holder with Multi Surface Arm - YouTube
Video will open in a new window
[isdntekvideo]
Includes:
1 x BLACK phone cradle
1 x Easy Fit Pro vent mount

5052010028876
Additional Information
Additional Information
| | |
| --- | --- |
| Bullet 1 | This air vent mount for the Samsung Galaxy Mini S3 GT-i8190 is suitable for most horizontal and vertival vent slats. The single spring vent clip post can be rotated through 360� to suit your slats. |
| Bullet 2 | Straight forward and uncomplicated to use, very easy to fit and quick to remove. The adjustable phone holder accommodates most cases and skins. Unlike bespoke dedicated cradles the arms of this holder are spring loaded to accommodate different makes & sty |
| Bullet 3 | Requires a gap of 6mm (+") between louvers. Louvre maximum depth 30mm (1.19"). |
| Bullet 4 | Cushioned support feet protect the console / dash area and reduce vibration. The metal spring action gripper with its plastic vent claw holds the mount securely against the vent. |
| Bullet 5 | The universal phone cradle is held on a ball joint which allows the screen to be viewed in portrait or landscape mode and has tilt adjustment to avoid sunlight glare. Tightening ring secures position. |
| Manufacturer | BuyBits Addons |
| Fits Samsung | Samsung GALAXY S III |
| Brand | Samsung |
| Mounting Type | No |
| Colour | Black |
| EAN DNU | 5052010028876 |
Reviews
Product Tags
Related Products