Product Description
Details
Garmin Nuvi 50 Easy Fit Car Air Vent Mount (sku 17045)
SKU: 17045
Dedicated "easy-fit" car / vehicle air vent GPS mount for the Garmin Nuvi 50 series.
Bespoke passive cradle.

Fits most vent slats - A popular alternative to suction cup window mounts.
Easy to attach to your vents and simple to remove.

Suitable for both horizontal and vertical vent slats, simply rotate the spring action arm to suit your vents.

Holds your Garmin Nuvi securely against the air vent of your vehicle.
360º tilt & swivel ball adjustment with tightening ring holds desired position.

The 'Easy Fit' vent mount has done away with the traditional plastic clips which could be awkward to insert and has replaced them with just a single metal, spring action mechanism
So easy it can be worked with just two fingers.

Cushioned support feet reduces vibration and protect the dash / console.

Supplied with the dedicated GPS cradle.
Holder clips directly on to the SatNav unit.

Fitting:
Requires a gap of 6mm (1/4") between louvers.
Louver maximum depth 30mm.

Video is an example of the easy fit vent fitting and will not show the Garmin Nuvi holder.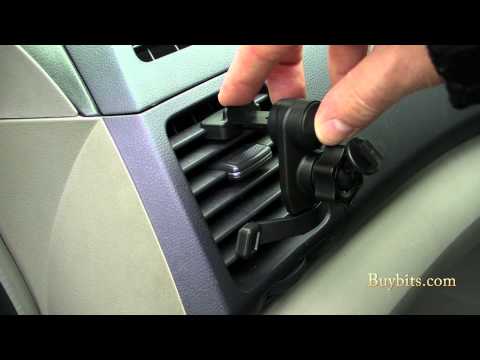 Ultimate Addons Easy Fit Vent Mount 2 Clip End - YouTube
Video will open in a new window
[isdntekvideo]
What's included?
1 x easy fit vent mount base
1 x Nuvi 50 series cradle

5052010031500
Additional Information
Additional Information
| | |
| --- | --- |
| Bullet 1 | Dedicated "easy-fit" car / vehicle air vent GPS mount for the Garmin Nuvi 50 series. Bespoke passive cradle. Fits most vent slats - A popular alternative to suction cup window mounts. Easy to attach to your vents and simple to remove. |
| Bullet 2 | Suitable for both horizontal and vertical vent slats, simply rotate the spring action arm to suit your vents. Holds your Garmin Nuvi securely against the air vent of your vehicle. 360� tilt & swivel ball adjustment with tightening ring holds desired posit |
| Bullet 3 | The 'Easy Fit' vent mount has done away with the traditional plastic clips which could be awkward to insert and has replaced them with just a single metal, spring action mechanism So easy it can be worked with just two fingers. Cushioned support feet redu |
| Bullet 4 | Mount base is supplied with the Nuvi 50 series cradle which attaches to the back of your satnav in the same way as the original window attachment. |
| Bullet 5 | Supplied with the dedicated GPS cradle. Holder clips directly on to the SatNav unit. Fitting: Requires a gap of 6mm (1/4") between louvers. Louver maximum depth 30mm. |
| Manufacturer | BuyBits |
| Brand | BuyBits Addons |
| Mounting Type | Vent |
| Colour | Black |
| EAN DNU | 5052010031500 |
Reviews
Product Tags
Related Products