Product Description
Details
A complete mounting option to hold and charge your Apple iPhone 5C while out on your motorcycle.
Mount bundle consists of:
Ultimate Addons central fork stem yoke mount for holes 20.5mm-24.5mm (0.81" - 0.96")
Ultimate Addons polycarbonate Tough Case
Ultimate Addons Hella / DIN plug power cable with iPhone 5C lightening connector.

This central fork stem yoke mount has been developed for use on motorcycles where a handlebar mounting option is not possible or desirable.
Designed to fit sports, superbikes, endurance and touring motorbikes using the cylindrical bore wall (steering head tube) of the fork stems.
Case Features:
Waterproof to IPX4 standard which offers protection from water splashes / light rain showers, dust & dirt.
Robust - designed to withstand daily use.
Hinged book stylecase with 2 secure luggage style closure clamps.
Bespoke iPhone 5C silicon liner contours the phone perfectly, cushioning it against knocks or bumps and reducing shock if dropped.
Sensitive front lens ensures your phone can be accessed easily.
Make & receive calls
Use camera / video
Headphone socket weather cap
Power access weather cap
Mount Features:
Motorcycle Fork Stem Yoke Mount Fits Stems: 20.5mm-24.5mm (0.81" - 0.96")
The 1" Ball fixing.
Light weight - made from Aluminium.
Attaches easily to the steering head tube of fork stems.
Easy to fit and completly removable.
3 prong adaptor joins mount to case.

Powered with the Ultimate Addons Hella / DIN / BMW style power lead.
FUSED & WATERPROOF - designed for motorcycles.
Incorporates an on/off power switch on the voltage regulator.
Unlike many cables which drain your batterys power while your bike is stored, our cable allows you to switch the current off when you want.
Supplied with the interchangeable iPhone 5C lightening connector to charge directly.
2amp replaceable blade fuse.
Power connector for the iPhone 5C has been specially designed to fit the Ultimate Addons waterproof Tough Case.
Hella / DIN / BMW Style plug
Weather cap
Input Voltage: DC 12-24V / Maximum: 16A
Output Voltage: DC 5V
Reverse Voltage Protection
Short-Circuit Protection
Overload Protection
Overall length approx 0.9m
Connector to Switch Box = approx 0.35m
Switch Box to Battery Connectors = approx 0.45m
Power connector cable = approx 0.5m
This DIN plug power cable has been specially designed with a detachable waterproof power connector allowing charging plugs for alternative devices to be attached & powered.
IMPORTANT: First check that your stem cover can be removed leaving a central hole for the mount to fix in.
Simply drop the Fork Stem Motorcycle attachment into the hole of the stem and tighten. The split shaft will expand to fit the inside wall of the fork stem Use an Allen Key to tighten to create a tight fit.
PLEASE NOTE: Measure your hole: This option is designed to fit stems that measure from 20.5mm-24.5mm (0.81" - 0.96")

What's included?
1 x iPhone 5C Tough Case
1 x 24mm Yoke Mount
1 x 1" ball adaptor
1 x Hella DIN plug charger with iPhone 5C lightening style connector

Alternative smaller sizes available.

Video example of this type of mounting option & charger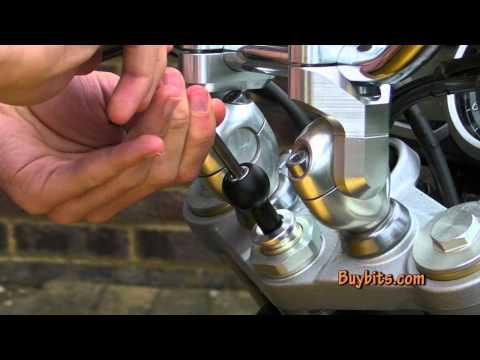 Ultimate Addons Central Fork Stem Yoke Mount - YouTube
Video will open in a new window
[isdntekvideo]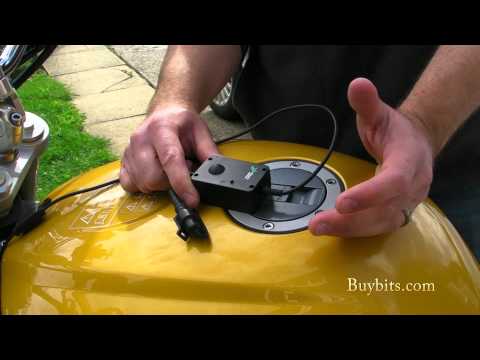 Ultimate Addons Hella/DIN socket Hardwire Cable - YouTube
Video will open in a new window
[isdntekvideo]
When fitting the case to the mount you must ensure you engage the three prong attachment system, firmly pushing together until it clicks.
Some force will be required.
If in doubt view fitting v
Additional Information
Additional Information
| | |
| --- | --- |
| Bullet 1 | A complete mounting option to hold and charge your iPhone 5C while out on your motorcycle comprising a sports motorcycle yoke mount & IPX4 waterproof tough case with a DIN / Hella socket charging cable. Central fork stem hole fitting for hole diameter 20. |
| Bullet 2 | Designed for daily use, the robust yet light-weight protective case comprises a hard shell with a dedicated silicon anti-shock liner - suitable for the 'naked' iPhone 5C mobile smartphone - no additional case is needed. IPX4 waterproof - protects from lig |
| Bullet 3 | Central fork stem yoke mount has been developed for use on motorcycles where a handlebar mounting option is not possible or desirable. Designed to fit sports, superbike, endurance and touring motorbikes using the cylindrical bore wall (steering head tube) |
| Bullet 4 | The light-weight aluminium yoke mount attaches easily to steering head tube of fork stems for holes 20.5-24.5mm (0.81"-0.96") and is completely removable (other fork stem sizes available, see separate listings). Uses 1" ball fixing to connect mount to cas |
| Bullet 5 | High quality fused (2 amp) waterproof Hella / DIN charging cable with detachable power plug connector to fit iPhone 5C charging port. Incorporates on/off power switch - turn off current during storage to prevent battery drainage. |
| Manufacturer | BuyBits Addons |
| Fits Apple | Apple iPhone 5C |
| Brand | Apple |
| Mounting Type | Stem |
| Colour | Black |
| EAN DNU | No |
Reviews
Product Tags
Related Products