Product Description
Details
Central Fork Stem Yoke Motorcycle Mount with IPX4 Waterproof Case.& hella cahrging cable - for iPhone 6S (4.7)
Fits fork stem with holes 13.3mm-14.7mm (0.52 inch-0.58 inch)
The IPX4 standard offers protection from dirt, dust, damp weather & water splashes / light rain showers.

The central fork stem yoke mount has been developed for use on motorcycles where a handlebar mounting option is not possible or desirable.
Designed to fit sports, superbike, endurance and touring motorbikes using the cylindrical bore wall (steering head tube) of the fork stems.
Important: Check that the stem cover can be removed leaving a central hole for the mount to fix in.
1" Ball fixing to connect mount to case.
Light weight - made from Aluminium.
Attaches easily to the steering head tube of fork stems.
To Fit: Simply drop the Fork Stem Motorcycle attachment into the hole of the stem and tighten. The split shaft will expand to fit the inside wall of the fork stem Use an Allen Key to tighten to create a tight fit.
The mount is attached to the soft case via the custom made Addons adaptor plate.
This adaptor slides on to the 3 prong fixing on the reverse of the case.

Please ensure the adaptor plate is properly attached before taking to the road.
Once positioned, slide until you hear the reassuring CLICK

The IPX4 standard waterproof soft case is light-weight & slim.
It has a touch sensitive front lens which allows you to access your smart phone while in the case.
Zip access.
Padded interior
360º swivel - ideal for satnav & map applications.
New High Powered Hella / DIN / BMW style power lead.
FUSED & WATERPROOF - designed for motorcycles.
High quality flexible cable.
New high powered 2.1A
Includes the shorter 7" (20cm) power adapter for iPhone 6 series.
Waterproof - designed for motorcycles.
Hella / DIN / BMW Style plug.
Fused
Input Voltage: DC 12-24V / Maximum : 16A.
Output Voltage: DC 5V / 2.1A.
Reverse Voltage / Short-Circuit / Overload Protection.
Overall length (with adapter) approx 53cm.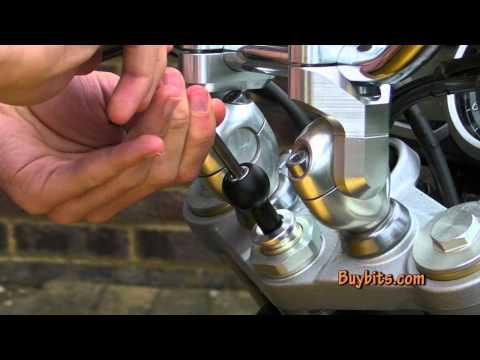 Ultimate Addons Central Fork Stem Yoke Mount - YouTube
Video will open in a new window
[isdntekvideo]


Tested to IPX4 standard - This case should not be submerge underwater or held under a running tap.
This video is an example of the Waterproof Soft Case.
Additional Information
Additional Information
| | |
| --- | --- |
| Bullet 1 | 13.3mm-14.7mm (0.52-0.58 inch) Central Fork Stem Yoke Motorcycle Mount with IPX4 Waterproof Case suitable for the Apple iPhone 6S (4.7 screen) smatphone. |
| Bullet 2 | The IPX4 standard offers protection from dirt, dust, damp weather & water splashes / light rain showers. |
| Bullet 3 | BuyBits Hella / DIN plug power cable with the new iPhone 6 shorter charging cable (7"/18cm). |
| Bullet 4 | Fused - 2amp Weather cap Input Voltage: DC 12-24V / Maximum : 16A. Output Voltage: DC 5V / 2.1A. Reverse Voltage, Short-Circuit & Overload protection Built in Surge Protector. |
| Bullet 5 | Din charger, case & mount |
| Manufacturer | BuyBits |
| Fits Apple | Apple iPhone 6S |
| Brand | Apple |
| Mounting Type | Stem |
| Colour | Black |
| EAN DNU | No |
Reviews
Product Tags
Related Products