Golf Bag Clip Mount suitable for the Apple iPhone 4S.
Universal side clamping system makes the holder ideal if you have access to a variety of mobiles, if you change your phone regularly or of you prefer to keep a protective case, skin or bumper on your device.
Will fitsmost Mobile Phones & Smart Phones currently on the market.
The Golfing Clip attaches quickly and easily to all golf bags, allows you to access your phone while on the course. Perfect for using one of the many Golf Apps available for download or for keeping your phone within reach for an important call.

This patented Golf bag clip uses a ball & socket design with tightening ring which allows the phone cradle to be viewed horizontally or vertically and gives you tilt to avoid glare.
The clip fits easily over the side of any Golf Bag or can be attached to your belt.
Light-weight, quick to fit & remove.

The Universal Phone Holder:
This high quality universal cradle is ideal if you like to keep your phone in a protective protective case, skin or bumper.
Unlike bespoke dedicated cradles the arms of this holder are adjustable to accommodate different makes & styles of case.
Function areas remain fully accessible.
Fits phones with a minimum height of 65mm and a width of between 40mm - 80mm.
Perfect if you upgrade your phone regularly.

What's included?
1 x Golf Bag Clip
1 x Universal Phone Holder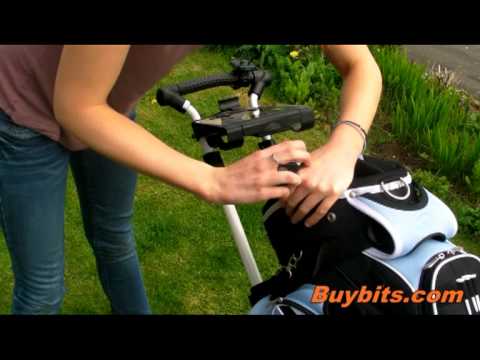 Universal Mobile Phone Holder with Golf Trolley Clip Mount - YouTube
Video will open in a new window