Product Description
Details
Ultimate Addons 15mm-17mm Motorcycle Bike Fork Stem Yoke Mount & 3 Prong Adaptor (sku 10987)
SKU: 10987
15mm-17mm Motorcycle Bike Fork Stem Yoke Mount & 3 Prong Adaptor for Ultimate Addons Case or Cradles.

If you have already purchased an Ultimate Addons waterproof case or phone holder you'll be aware we use a three prong attachment system.
Now you can add that case or cradle to our Motorcycle Fork Stem Mount.

This Motorcycle Fork Stem Yoke Mount Fits Stems: 15mm - 17mm (0.59"-0.68")
This central fork stem yoke mount has been developed for use on motorcycles where a handlebar mounting option is not possible or desirable.
Designed to fit sports, superbike, endurance and touring motorbikes using the cylindrical bore wall (steering head tube) of the fork stems.
The 1" Ball fixing.
Light weight - made from Aluminium.
Attaches easily to the steering head tube of fork stems.
IMPORTANT: First check that your stem cover can be removed leaving a central hole for the mount to fix in.
Simply drop the Fork Stem Motorcycle attachment into the hole of the stem and tighten. The split shaft will expand to fit the inside wall of the fork stem Use an Allen Key to tighten to create a tight fit.
PLEASE NOTE: Measure your hole: This option is designed to fit stems that measure from 15mm - 17mm (0.59"-0.68")
This mounting option is for use with the Ultimate Addons range of waterproof cases & cradles and is not a complete mounting option.

We also have two other sizes available: 13.3mm - 14.7mm (0.52" - 0.58") and 17.5mm - 20.5mm / 0.68" - 0.81" See separate listings.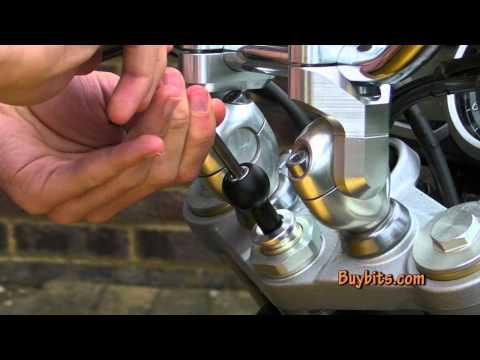 Ultimate Addons Central Fork Stem Yoke Mount - YouTube
Video will open in a new window
[isdntekvideo]
Additional Information
Additional Information
| | |
| --- | --- |
| Bullet 1 | 15mm-17mm Motorcycle Bike Fork Stem Yoke Mount & 3 Prong Adaptor for Ultimate Addons Case or Cradles. |
| Bullet 2 | If you have already purchased an Ultimate Addons waterproof case or phone holder you'll be aware we use a three prong attachment system. Now you can add that case or cradle to our Motorcycle Fork Stem Mount. |
| Bullet 3 | This Motorcycle Fork Stem Yoke Mount Fits Stems: 15mm - 17mm (0.59"-0.68") This central fork stem yoke mount has been developed for use on motorcycles where a handlebar mounting option is not possible or desirable. |
| Bullet 4 | PLEASE NOTE: Measure your hole: This option is designed to fit stems that measure from 15mm - 17mm (0.59"-0.68") This mounting option is for use with the Ultimate Addons range of waterproof cases & cradles and is not a complete mounting option. |
| Bullet 5 | We also have two other sizes available: 13.3mm - 14.7mm (0.52" - 0.58") and 17.5mm - 20.5mm / 0.68" - 0.81" See separate listings. |
| Manufacturer | BuyBits Addons |
| Brand | Ultimate Addons |
| Mounting Type | Stem |
| Colour | Black |
| EAN DNU | No |
Reviews
Product Tags
Related Products