Product Description
Details
Hella DIN Powered 17.5mm-20.5mm Motorcycle Fork Stem Yoke Mount for TomTom START 60 (sku 17377)
SKU: 17377
Hella / DIN powered motorcycle fork stem yoke mount for the TomTom START 60 GPS satnav series.

Includes a Hella / DIN charging cable with a specially designed micro USB plug which fits directly into the TomTom START 60 charging port.

Weather resistant protective case with central fork stem mount for holes 17.5mm-20.5mm (0.68 "- 0.81").

This central fork stem yoke mount has been developed for use on motorcycles where a handlebar mounting option is not possible or desirable.
Designed to fit sports, superbike, endurance and touring motorbikes using the cylindrical bore wall (steering head tube) of the fork stems.

Case Features:
BuyBits new improved fit GPS case - fits satnav devices with a maximum size of 165mm x 105mm x 24mm.
New 'EDGE to EDGE' touch sensitive lens - view and control your satnav while it remains protected within the case.
Offers protection from damp weather & light rain showers.
Covered zip.
Charging cable access.
Supplied with additional support pads.
Case un-clips easily for security.

Mount Features:
Motorcycle Fork Stem Yoke Mount Fits Stems: 17.5mm-20.5mm (0.68 "- 0.81").
The 1" Ball fixing.
Light weight - made from Aluminium.
Attaches easily to the steering head tube of fork stem.
Easy to fit and completely removable.
Included a 2 prong adaptor joins mount to case.
IMPORTANT: First check that your stem cover can be removed leaving a central hole for the mount to fix in.
Simply drop the Fork Stem Motorcycle attachment into the hole of the stem and tighten. The split shaft will expand to fit the inside wall of the fork stem.
Use an Allen Key to tighten to create a tight fit.
PLEASE NOTE: Measure your hole: This option is designed to fit stems that measure from 17.5mm-20.5mm (0.68 "- 0.81").
Video example of this type of mounting option only.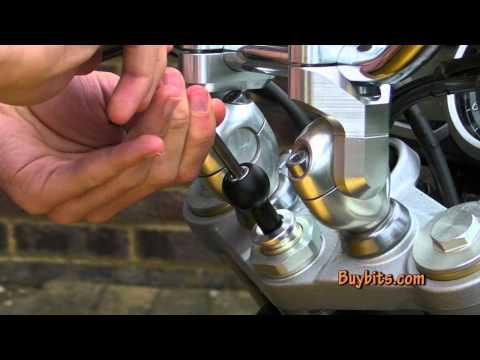 Ultimate Addons Central Fork Stem Yoke Mount - YouTube
Video will open in a new window
[isdntekvideo]
When fitting the case to the mount you must ensure you engage the 2 prong attachment system, firmly pushing together until it clicks. Some force will be required.
Use on motorcycles which already have a Hella / DIN / BMW style power socket (female) in place.
The Ultimate Addons Hella cable plugs directly in to the socket on your bike and allows you to power directly.
Supplied with the molded power connector for the TomTom START 60 series,
Alternative power connectors available from us.
Waterproof - designed for motorcycles.
Hella / DIN / BMW Style plug
On/Off switch
Fused (2 amp)
Weather capped connector
Input Voltage: DC 12-24V / Maximum: 16A
Output Voltage: DC 5V
Reverse Voltage Protection
Short-Circuit Protection
Overload Protection
Overall length approx 0.9m
Connector to Switch Box = approx 0.35 metres
Switch Box to Battery Connectors = approx 0.45 metres
Optional Connector cables (not included) are 0.5 metre long.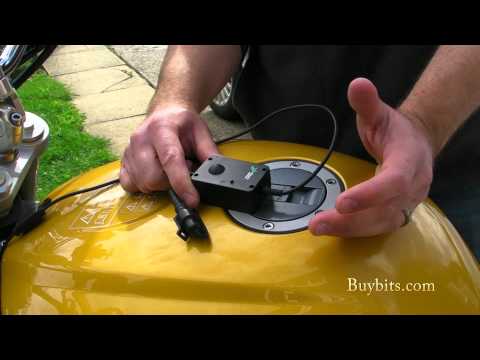 Ultimate Addons Hella/DIN socket Hardwire Cable - YouTube
Video will open in a new window
[isdntekvideo]

What do I get?
1 x Ultimate Addons Hell / DIN (BMW style) charger
1 x Molded micro usb power connector
1 x Weatherproof GPS case
1 x Fork stem mount

5052010833142
Additional Information
Additional Information
| | |
| --- | --- |
| Bullet 1 | Powered motorcycle fork stem yoke mount for the TomTom START 60 GPS SatNav series - comprises of Hella / DIN charging cable with molded TomTom START 60 micro USB connector, weather resistant protective case and central fork stem mount for holes 17.5mm-20. |
| Bullet 2 | This central fork stem yoke mount has been developed for use on motorcycles where a handlebar mounting option is not possible or desirable. Designed to fit sports, super bike, endurance and touring motorbikes using the cylindrical bore wall (steering head |
| Bullet 3 | Waterproof Case features new 'EDGE to EDGE' touch sensitive lens - view and control the SatNav while in the case. Protects from damp weather / light rain showers. Case un-clips easily for security/storage. |
| Bullet 4 | Motorcycle Fork Stem Yoke Mount fits Stems: 17.5mm-20.5mm (0.68 "- 0.81"). Uses the 1" Ball fixing. Light-weight - made from Aluminium. Attaches easily to the steering head tube of fork stem. Easy to fit and completely removable. |
| Bullet 5 | Hella / DIN charging cable with molded micro USB plug, FUSED & WATERPROOF designed for motorcycles. On/off power switch on voltage regulator - prevents drainage of battery during storage. |
| Manufacturer | BuyBits |
| Brand | BMW |
| Mounting Type | Stem |
| Colour | Black |
| EAN DNU | 5052010833142 |
Reviews
Product Tags
Related Products