Waterproof tough case with a sports motorcycle yoke mount - Designed for the iPhone 8 Plus (5.5)
Not for iphone 8 4.7 inch screen
Central fork stem hole fitting for holes 20.5mm-24.5mm (0.81" - 0.96").
The tough case is a polycarbonate hard shell holder with dedicated anti-shock silicon liner.
Includes a detachable lanyard & internal screen protector.
This central fork stem yoke mount has been developed for use on motorcycles where a handlebar mounting option is not possible or desirable.
Designed to fit sports, superbike, endurance and touring motorbikes using the cylindrical bore wall (steering head tube) of the fork stems.

Case Features:
IPX5 standard offers protection during wet weather riding, dust & dirt.
This robust protective case has been designed to withstand daily use.
Light-weight yet strong.
Bespoke silicon liner contours the phone perfectly, cushioning it against knocks or bumps and reducing shock if dropped.
Sensitive front lens ensures your phone can be accessed easily.
Make & receive calls, Use camera / video. Headphone socket weather cap. Power access weather cap
Note: This case can be powered with the BuyBits hard wire direct to battery or the Hella DIN motorcycle charger - not included
Secure hinged opening, twin clips & three pressure clips
Mount Features:
Motorcycle Fork Stem Yoke Mount Fits Stems: 20.5mm-24.5mm (0.81" - 0.96").
The 1" Ball fixing.
Light weight - made from Aluminium.
Attaches easily to the steering head tube of fork stems.
Easy to fit and completely removable.
3 prong adapter joins mount to case.
IMPORTANT: First check that your stem cover can be removed leaving a central hole for the mount to fix in.
Simply drop the Fork Stem Motorcycle attachment into the hole of the stem and tighten. The split shaft will expand to fit the inside wall of the fork stem Use an Allen Key to tighten to create a tight fit.
PLEASE NOTE: Measure your hole: This option is designed to fit stems that measure from 20.5mm-24.5mm (0.81" - 0.96").
What's included?
1 x Tough Case
1 x 20.5mm - 24.5mm Yoke Mount
1 x 1" ball adapter
Video example of this type of mounting option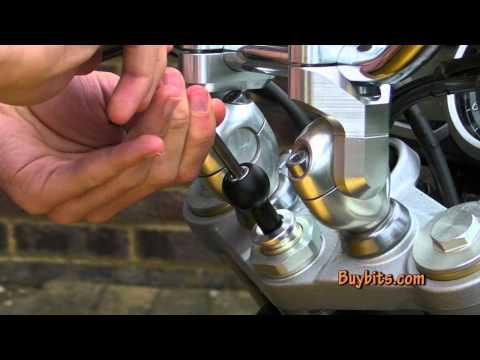 Ultimate Addons Central Fork Stem Yoke Mount - YouTube
Video will open in a new window
[isdntekvideo]
When fitting the case to the mount you must ensure you engage the three prong attachment system, firmly pushing together until it clicks.
Some force will be required.
If in doubt view fitting video.