TiGRA BikeCONSOLE Case for iPhone 6 / 6S & Motorcycle Extended Fork Stem Yoke Mount - Fits fork stem with holes 17.5mm - 20.5mm (0.68 inch - 0.81 inch).
Bundle includes the BuyBits High power Hella / Din cable with the new shorter iPhone 6 series connector (7 inch/18cm).
Includes a FREE Bikeconsole handlebar mount for use on an additional bike.
Waterproof bike mount bundle incorporating the stylish TiGRA Bike CONSOLE phone case with a 17.5mm - 20.5mm (0.68 inch - 0.81inch) fork stem yoke mount.
This central fork stem yoke mount has been developed for use on motorcycles where a handlebar mounting option is not possible or desirable.
Designed to fit sports, superbike, endurance and touring motorbikes using the cylindrical bore wall (steering head tube) of the fork stems.
Light-weight - made from Aluminium.
Comes with 3 inch Buybits arm Extension.
Attaches easily to the steering head tube of fork stems.
Important: First check that your stem cover can be removed leaving a central hole for the mount to fix in. Simply drop the Fork Stem Motorcycle attachment into the hole of the stem and tighten. The split shaft will expand to fit the inside wall of the fork stem. Use an Allen Key to tighten to create a tight fit. (other sizes available).
Includes the Hard shell 'Tough Case' with dedicated silicon anti-shock liner.
The BikeConsole Tough Case Designed to fit iPhone 6 / 6S only.
360 degree tilt & swivel adjustment, view your phone in landscape or portrait.
Waterproof IPX4 - protects from light rain showers & water splashes.
Touch screen operable supports Touch ID.
Strong case and mounting bracket made of engineering plastics.
Drop test from 2 metres on hard concert floor at multiple angles.
Pocket-friendly flat back design.
Includes a FREE new reinforced universal mounting bracket with 'Quick Release' fit bars / stems 20-45mm.
New safety lock design, with additional lock screw, prevents case from falling out of bracket even under toughest road conditions and impacts.
360 degrees rotation with reinforced rotation mechanism.
Home and sleep/wake buttons operable.
Cameras ready.
Integrated headphone plug and external headphone jack that fits all headphones.
Charging port accessible.
New High Powered Hella / DIN / BMW style power lead.
FUSED & WATERPROOF - designed for motorcycles.
High quality flexible cable.
New high powered 2.1A
Includes the shorter 7" (18cm) power adapter for iPhone 5 series.
Waterproof - designed for motorcycles.
Hella / DIN / BMW Style plug.
Fused
Input Voltage: DC 12-24V / Maximum : 16A.
Output Voltage: DC 5V / 2.1A.
Reverse Voltage / Short-Circuit / Overload Protection.
Overall length (with adapter) approx 53cm.
What's included ?
1 x Tigra Case
1 x adapter
1 x stem mount (Other sizes available)
1 x 3 inch Buybits arm extension.
1 x High Power Hella / DIN cable and short iPhone 6 connector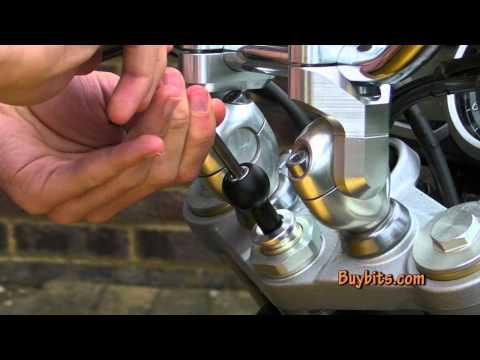 Ultimate Addons Central Fork Stem Yoke Mount - YouTube
Video will open in a new window
[isdntekvideo]