iPad Mini Easy Fit Air Vent Car Mount (sku 15878)
SKU: 15878
Use & view your Apple iPad Mini from a convenient air vent within your vehicle.
A perfect way to hold the iPad mini so you can access map or GPS applications like Google maps or TomTom.
Allows front seat pasengers access to music / entertainment for long journeys.
Use your car as an office? access information, diarys or files from your iPad Mini within easy reach of your steering wheel.

This mount is easy to fit and is completely removable.
Single spring arm attachment system rotates so is suitable for both horizontal and vertical vent slats.

360º off set positioning with a twin ball joint ensures your optimum viewing position can be achieved.

Cushioned support feet reduces vibration and protect the dash / console.

Fitting: Requires a gap of 6mm (1/4") between louvers. Louver maximum depth 30mm.

Your iPad mini clips directly into the dedicated cradle.
The cradle is bespoke and designed to only for the Apple iPad mini tablet.
The design contours the iPad mini leaving access to function areas and the charging port.
Please mote: This is a dedicated cradle so you use a case it will have to be removed before inserting.

What do I get?
1 x easy fit air vent base
1 x dedicated iPad Mini cradle


The video is an example of this vent fitting and will not show the iPad Mini cradle.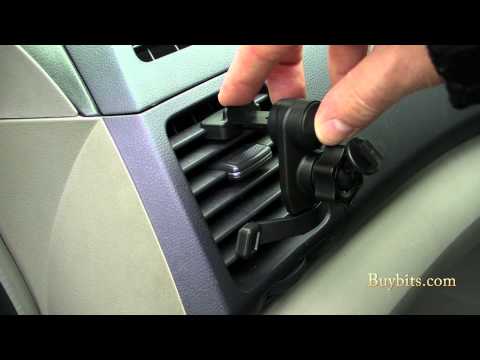 Ultimate Addons Easy Fit Vent Mount 2 Clip End - YouTube
Video will open in a new window
[isdntekvideo]
5052010025356