Complete motorcycle mount kit consisting of the PRO professional fit handlebar mount with the IPX4 waterproof Tough case designed to hold and protect the Apple iPhone 5S along with a DIN / Hella / BMW style socket power cable to keep your phone charged while on the road.

(Not suitable for the iPhone 5C)

The Ultimate Addons Hella / DIN cable plugs directly into the DIN / Hella socket on your bike and allows you to power your phone straight from your bikes battery.

The Pro mount is a stable, secure twin screw fitting - Fits handlebars 19mm - 33mm in diameter.

New book style design
Waterproof - IPX4 protects from light rain showers & damp weather.
Robust strong design.
Make & receive calls.
Hinged hard outer case.
Dedicated smooth anti-shock rubber liner.
2 closure clamps clip reassuringly into place.
Clear sensitive touch lens.
On / Off, volume and camera all remain accessible.
Headphone socket has a removable weather cap.
Power access with weather cap.
Detachable soft web lanyard with safety clasp.
Screen protector

The iPhone 5 / 5S Tough Case attaches to the PRO handle bar mount and is suitable for handlebars with a diameter between 19mm - 33mm.
You will require a minimum clear space of 42mm on your handlebars for fitting.
Twin screws tighten and secure the mount providing a strong secure fixture for the Tough Case.
Supplied with two liners to cushion against vibration and protect your handlebars.
Fully adjustable - The TOUGH CASE is held on a ball & socket adjuster which provides 360 degree adjustment for the perfect viewing position.
Your phone can be viewed horizontally or vertically, ideal for satnav & map applications.
This style of mount offers maximum tilt to avoid glare and can even be positioned for video use while riding. Your chosen position is held in place with the easy to use tightening ring.

Powered with the Ultimate Addons Hella / DIN / BMW style power lead.
FUSED & WATERPROOF - designed for motorcycles.
Incorporates an on/off power switch on the voltage regulator.
Unlike many cables which drain your battery's power while your bike is stored, our cable allows you to switch the current off when you want.
Supplied with the interchangeable iPhone 5 lightening connector to charge directly.
Features:
High quality FUSED cable.
2amp replaceable blade fuse.
Incorporates an on/off power switch on the voltage regulator.
Lightening connector for the iPhone 5 has been specialy designed to fit the Ultimate Addons waterproof Tough Case.
Only high quality cable used.
Waterproof - designed for motorcycles.
Hella / DIN / BMW Style plug
On/Off switch
Fused (2 amp)
Weather cap on power cable
Weather cap on the charging connector
Input Voltage: DC 12-24V / Maximum: 16A
Output Voltage: DC 5V
Reverse Voltage Protection
Short-Circuit Protection
Overload Protection
Overall length approx 0.9m
Connector to Switch Box = approx 0.35m
Switch Box to Battery Connectors = approx 0.45m
Power connector cable = approx 0.5m
This DIN plug power cable has been specially designed with a detachable waterproof power connector allowing charging plugs for alternative devices to be attached & powered.
Pro Handlebar Mount Video

DIN / Hella Power Cable Video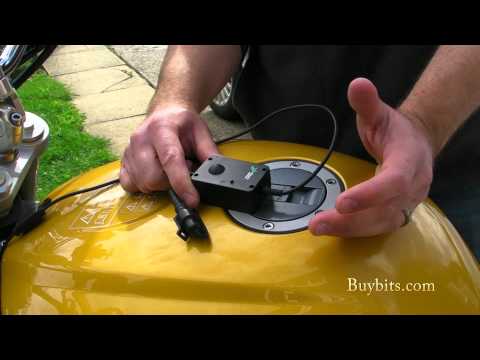 Ultimate Addons Hella/DIN socket Hardwire Cable - YouTube
Video will open in a new window
[isdntekvideo]


Important fitting instructions:
Important: If you are using this case with an Ultimate Addons Bike Mount always ensure the case is clicked firmly in place before inserting your phone. An audible CLICK can be heard when correctly secured. You may need some force initially to achieve this.

Do not submerge case in water or use underwater.
5052010836228