KTech car / vehicle air vent mount suitable for the Apple iPad Mini 2019, ideal for both horizontal and vertical vent slats by turning the spring action arm.
Simple to use, can be inserted and removed very easily.
The cradle has adjustable cushioned and 'lipped' feet that offer protection as well as catering for different sizes of case securely.
iPad Mini holder is padded to cushion and protects while reducing vibration. Ratchet action enables adjustability.
Once inserted it offers a 360º tilt and swivel movement to allow the viewing of your iPad Mini 4 from different angles and orientations as well as angling to reduce glare.
The KTech Apple iPad Mini 4 car / vehicle air vent mount allows for multiple uses of your device. Ideal position for Sat Nav and map applications and for use by passengers to access entertainment. Perfect for use in business for locating customer information and addresses etc.
This mount provides an successful alternative to the suction cup mounting system.

Fitting:
Requires a gap of 6mm (1/4") between louvers.
Louver maximum depth 30mm.

Video is an example of the easy fit vent fitting and may not show your chosen cradle or device.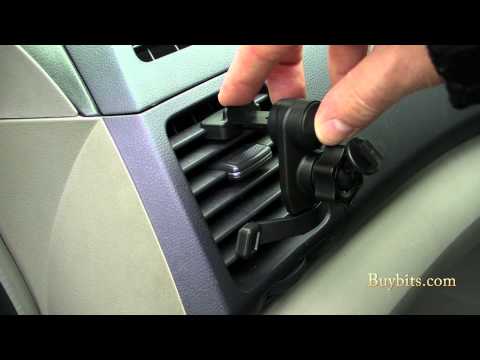 Ultimate Addons Easy Fit Vent Mount 2 Clip End - YouTube
Video will open in a new window
[isdntekvideo]
What's included?
1 x easy fit vent mount base
1 x iPad Mini adjustable cradle