Motorcycle click on 'direct to battery' charging cable with dedicated power connector for the Samsung Galaxy S5.
Specially designed to fit the Ultimate Addons Galaxy S5 Tough / Hard Case (case NOT included).
Part of the Ultimate Addons range, this new direct to motorcycle battery charging cable has been designed to be used in conjunction with an Ultimate Addons bike mount & case / holder.
Uses the patented 3-prong attachment system.
Incorporates a 3-prong (female) on base of switch box and 3-prong (male) on the top so it fits in between your Ultimate Addons bike mount & cradle/case.

This new design is ideal if it's inconvenient to access under your motorcycle seat.

Acts as an extension to an Ultimate Addons mount - adds around 3cm (1.18") to the height of the mount base - gives a little more clearance and adjustment.

Comes with an Ultimate Addons Galaxy S5 power connector.
Waterproof ON / OFF switch with LED power indicator.
Will not drain your battery when stored.
Length approx 2m (79") to terminal connectors.
Input Voltage: DC 12-24V
Maximum charging current: 1A
Output voltage: DC 5V
Replaceable blade fuse with waterproof rubber cap.
Reverse voltage, short-circuit & overload protection.
Weather caps to connectors.
Switch box size 6cm x 2.4cm x 3.9cm.
Red / Black ringed battery terminal connectors.
Velcro cable tidy.
CE Approved.
12 month warranty.
What's included?
1 x new design Ultimate Addons 'Direct to Battery' Motorcycle Cable
1 x Galaxy S5 connector
(case & mount NOT included)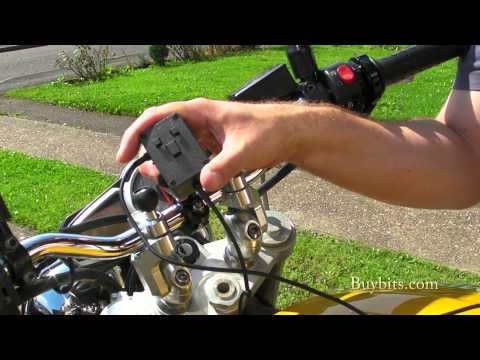 Ultimate Addons Click On Direct to Battery Hard Wire Cable - YouTube
Video will open in a new window
5052010304239